on

December 3, 2019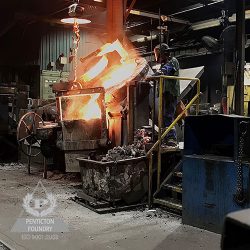 One key benefit of iron production is that a foundry can melt down and reuse metal. Not only does this offer sustainability benefits, but significant cost savings.
Tip: Mechanical properties of the iron are determined by chemical composition and external factors like heat treatment and alloying. This means that concerns around using scrapped metals can be mitigated by correctly handling the quality and chemistry of what is being put into a charge
Read: To learn more about the mechanical properties and applications of ductile iron read, "Understanding Ductile Iron."
Recycling Ductile Iron
Waste metal is always produced during the production of iron, often from risers and leftover excess material. Instead of allowing this to become waste, it can be re-melted and used again to produce more castings.
Challenge: The material's chemistry is quite different from the original, raw materials, and care must be taken when re-adding it to the furnace. For example, 80-55-06 and 65-45-12 have a silicon content of up to 2.75%, which needs to be considered when re-melting the metal.
Solution: Don't follow the regular charge make up. Instead, construct one which includes the new chemistry of the returns. For instance, the addition of high silicon metals means that other high silicon additions in the furnace need to be decreased, like ferrosilicon.
Reducing Through Ductile Iron
Ductile iron is less energy intensive during production than steel, making a switch to ductile iron castings a simple way to save energy. This is an important point to consider when buying new parts, and completing a life cycle analysis of energy consumption during production.
Reusing Ductile Iron
Buying waste materials and incorporating them can significantly improve a foundry's sustainability efforts, with corresponding benefits to the bottom line. For example, high-quality steel castings are often replaced simply due to age or wear, and the old castings often become waste. A better, more cost effective solution, is to buy these castings as a good source of iron, and then use the raw materials as a component in new castings. Similarly, high quality ductile iron castings can be re-melted and turned into new castings once their service life has been completed.
Repairing Ductile Iron
Like chrome white iron, ductile iron can be repaired. The rework/repair rate of ductile iron is much lower than steel (before the casting leaves the foundry), resulting in a less energy intensive process.
To learn more about ductile iron, check out our ductile iron webpage.
Download Our Free Alloys Fact Sheet