on

July 28, 2016

ASTM A536 80-55-06 (Related standards – SAE J434C D5506; ISO 1083 500-7) is a nodular iron with a mostly pearlitic – and smaller amount of ferrite – microstructure. It has mechanical properties comparable to low alloy steels. Ductile iron 80-55-06 is one grade in a family of many. Chemistry requirements are not specified in the ASTM A536 standard. Chemistry and hardness listed in this spec would be typical for a Grade 80-55-06.

For more information on ductile iron, go to our ductile iron page.

Composition
| | | | | | | | |
| --- | --- | --- | --- | --- | --- | --- | --- |
| | C | Mn | Si | Cr | Ni | Cu | Mg |
| Min% | 3.4 | | 2.35 | | | | 0.025 |
| Max% | 3.8 | 0.4 | 2.75 | 0.08 | 0.5 | 0.6 | 0.055 |

Physical and Mechanical Properties
| | |
| --- | --- |
| UTS (psi) | 80000 |
| YS (psi) | 55000 |
| %Elongation | 6% |
| Hardness | >190 |
| Density lb/in3 (g/cm3) | 0.256(7.1) |
| Thermal Conductivity Btu/hr·ft·F (W/m·K) | 250(36) for Ferritic grades, will change with an increase in pearlite, approx. 20% less |
| Specific Heat at 70F Btu/lb·F (J/Kg·k) | 0.110(461) |
| Coefficient of Thermal Expansion Ɛ/F(Ɛ/C)X106 average between 68-212F | 6.4 (11.5) |
| Melting Temperature (F) | 2100 F |
| Compressive Strength Ksi (MPa) | 429 (2960) |

Impact Properties
Ductile Iron impact properties are microstructure dependent. If charpy impact testing is required for the engineering design, consider using a fully ferritic ductile iron grade with a higher % elongation. The ISO 1083 standard specifies charpy values for low temperature applications.
The Ductile Iron Advantage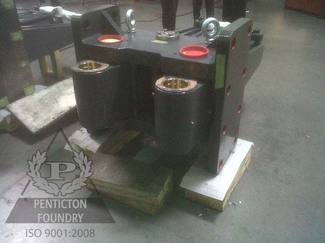 Ductile iron can be easily cast and machined. Ductile iron has great vibration damping and good corrosion resistance properties. Ductile iron has a great strength to weight ratio and can be made for a much lower cost than steel. This is in part because the gross material being used is less for casting ductile iron than for steel.
Tip: When considering a conversion from a fabrication to a casting, ductile iron should be used for the reasons listed above (castability, machining, close to steel strengths, and costs).
Applications
Applications include: brakes, gear boxes, frames, oil and gas parts, pumping parts, compressor parts, mining parts, winch parts, wind energy and other applications. ASTM A536 80-55-06 is commonly used for municipal castings.