on

January 25, 2017

ASTM A897 130-90-09 is an alloyed nodular iron which is heat treated to achieve the desired properties. Austempered ductile iron (ADI) is a strong, light and wear resistant material. ADI is also a good conductor of heat and a better damper of vibration than steel1. The amount of certain elements – specifically Cu, Ni, Mo – would be specified by the heat treater for improved heat treatability.

Composition
| | | | | | | | | |
| --- | --- | --- | --- | --- | --- | --- | --- | --- |
| | C | Mn | Si | Cr | Ni | Cu | Mo | Mg |
| Min% | 3.4 | | 2.35 | | | | | 0.025 |
| Max% | 3.8 | 0.3 | 2.75 | 0.08 | | | | 0.055 |
Physical and Mechanical Properties
| | |
| --- | --- |
| UTS (psi) | 130000 |
| TS (psi) | 90000 |
| %Elongation | 9% |
| Hardness (BHN) | 269 (341) |
| Density lb/in3 (g/cm3) | 0.256 (7.1) |
| Thermal Conductivity Btu/hr·ft·F (W/m·K) | 150 (260) |
| Specific Heat at 70F Btu/lb·F (J/Kg·k) | 0.110 (461) |
| Coefficient of Thermal Expansion Ɛ/F(Ɛ/C)X106 | 8.1 |
| Melting Temperature (F) | 2100 F |
| Compressive Strength Ksi (MPa) | 200 (1379) |
Impact Properties
Un-notched Charpy Impacts at 70F = 90 ft-lb
Notched Charpy Impacts at 70F = 9 ft-lb
2All properties were taken from "Typical Properties of ADI" – by Applied Process
Check out our austempered ductile iron webpage for more information.
ADI Design Benefits
Heat treating ADI involves a complicated quenching process in a liquid salt solution that is kept at a strictly controlled temperature. The grade of ADI is determined by the chemistry of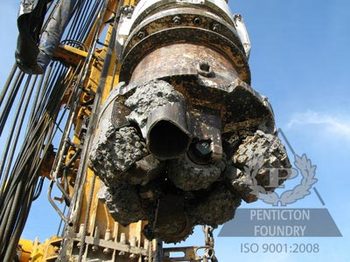 the metal at the foundry level and the quench temperature utilized at the heat treating company. During this quench an aus-ferrite microstructure is formed. The microstructure is uniformly formed with aus-ferrite and graphite nodules. This makes the material stronger and tougher than heat treated ductile iron. Grade 1 ADI would be quenched at a higher temperature range, giving it a higher toughness with abrasion resistance. Lower temperature quench would give it a higher strength with abrasion resistance.
ADI heat treated materials exhibit mechanical properties equivalent to cast and forged steels.3 ADI has a greater strength to weight ratio than steel.4 Comparing an ADI casting of the same dimensions to steel, the casting would be lighter because of the graphite nodules.5 ADI is also stronger than aluminum, making it a great option for replacing automotive parts.6
Another benefit of designing with ADI is the improved abrasion resistance properties. Even though ADI has great abrasion resistance properties it can also be machined. Machining can be done before or after heat treatment.
Applications

Automotive parts like engine crank shafts

Mining parts like liners

Hydraulic Fracturing parts like impellers.
Read: "Austempered Ductile Iron (ADI) Gear Segments" for an example of how austempered ductile iron (ADI) was used in the mining industry.
1Materials – Austempered Ductile Iron Say What? By Leslie Shalabi
2Typical Properties of ADI by Applied Process
3Materials – Austempered Ductile Iron Say What? By Leslie Shalabi
4Materials – Austempered Ductile Iron Say What? By Leslie Shalabi
5Materials – Austempered Ductile Iron Say What? By Leslie Shalabi
6Materials – Austempered Ductile Iron Say What? By Leslie Shalabi