on

November 29, 2018

The Company's Situation


A mine in British Columbia, Canada was looking for a material to replace manganese steel in their gyratory crusher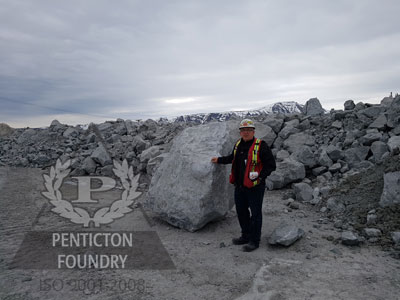 liners. The mine required good wear properties, coupled with the ability to absorb great impact at low temperature. While manganese is the traditional material used for this application, it requires a lot of impact for the surface to harden. In this case, the mine was unsure if there would be sufficient impact to harden the manganese. A solution was clearly needed.
Solutions
The gyratory crusher liner is comprised of 3 rows of casting, with the top and mid layer taking significant impact, and the lower layer needing to withstand compression and abrasion.
Penticton Foundry's solution was two-fold:
Chrome white iron was used for the bottom row as it offers superior abrasion resistance – the key trait required for the third layer of the crusher.


Austempered ductile iron was used for the top two rows as it provides the necessary hardness required to withstand significant impact.
The Characteristics of Austempered Ductile Iron
Austempered ductile iron is a form of ductile iron that undergoes a specialized heat treatment. This treatment essentially doubles the strength of the iron, as well as imparting a number of other desirable mechanical properties. In this case, the castings used in the crusher exhibited mechanical properties of 175K UTS/ 125K yield /4% elongation. As cast, the castings were in the 400BHN hardness range, and will continue to harden under the strain.
Note: Subsequent testing of the castings once they were removed showed a surface hardness in the 500BHN range.
Read: To learn more about austempered ductile iron, check out our austempered ductile iron page.
Results
Ultimately, the castings gave the mine a high strength alloy with the ability to wear harden and absorb impact
Feed to the crusher was very large at times depending on blast fracture patterns. The gyratory crusher liner, comprised of austempered ductile iron and chrome white iron, was able to withstand the impact and abrasion demands
In spite of temperatures as low as -30°C the liners performed as expected
No risk or sign of the cracking associated with a martensitic steel casting
Manganese will deform under compressive stress, and the austempered ductile iron castings did not