on

September 22, 2016

In several of our datasheets, such as our datasheet on ASTM A532 Class II Type D, we get specific about each alloy and its mechanical and physical properties. In fact, to see each datasheet click on the links on our chrome white iron webpage.

This blog, in contrast, contains a generic overview of chrome white iron.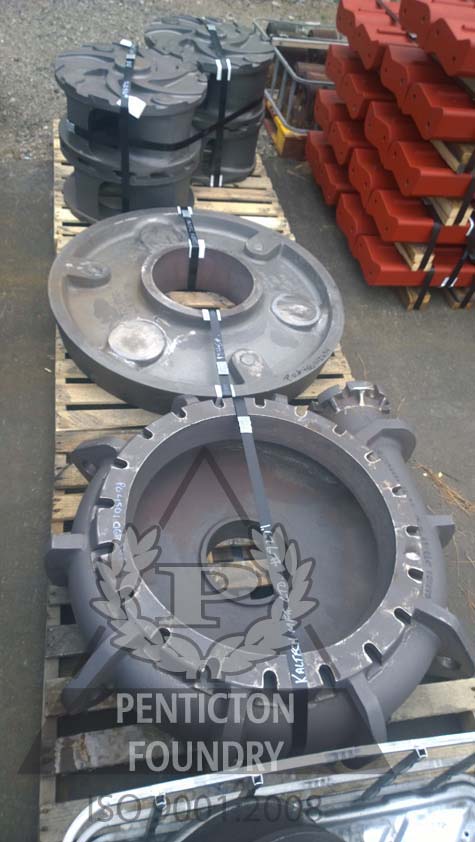 Chrome white iron is comprised of carbides and martensite. This combination makes chrome white iron exceptionally wear resistant and hard. The carbides in chrome white iron have a hardness range of 1500-1800HV and are primarily eutectic carbides. They form as bundles of hollow hexagonal rods. The growth of these rods will drastically affect the properties of the casting, which is controlled through the careful engineering of the chemical composition. Abrasion resistance is the property most desired when selecting a chrome white iron casting. At the foundry level the microstructure (carbides and martensite) is controlled to maximize the abrasion resistance for an application. There are many phenomena at work during cutting, gouging or scratching types of abrasion. The presence of carbides, the fatigue resistance and the toughness of high chrome white iron all play an important role in its abrasion resistance.
Key Notes
The chromium in high chrome white iron reduces the cooling rate required to produce carbides throughout the material, allowing massive castings to be manufactured with carbides throughout their section-thickness during the normal solidification encountered in the casting process
Excellent for use in transporting of abrasive mediums
Read this case study to learn how chrome white iron can outlast chromium carbide overlay by a factor of 20 times
To achieve the best abrasion resistance for your application it is important to work closely with your foundry of choice. The abrasive environment of your application, coupled with the microstructure of chrome white iron can result in drastic differences in the service life of your part. The design assistance phase must focus on determining which areas of application will sustain the greatest wear and how to ensure the highest quality casting is produced. Chemistry is carefully engineered to provide the best size and shape of carbides. The heat treatment is the final step in the manufacturing process and it ensures that the microstructure is correct for your application. The heat treatment should be designed based on the chemistry of the part, its section thickness and desired properties.
Applications for Chrome White Iron
Pumps, impellers and suction or bearing liners are some of the most common uses for chrome white iron.
Chute liners, apron-feed liners, and gyratory crusher liners are very common uses in the mining industry.
Recycling-plant parts like blow bars, anvils and throw shoes are best made in high chrome white iron.
Hydro-transport parts like laterals, wyes, reducers and elbows can be made with our chrome white iron.
The examples above are just a small fraction of the kinds of products that are made out of chrome white iron. For more information on chrome white iron, check out our chrome white iron webpage.