---
At Penticton Foundry we pride ourselves on game changing innovations. We have particularly excelled in creating products and castings for industries that hydrotransport slurry. In fact, since 2001 our innovation in the Oil Sands has saved our customers millions.
FORCAST ARMOURED PIPE™, with its predictable life, is another example of innovation at its best. Completely engineered and manufactured in Canada, FORCAST ARMOURED PIPE™ is tough enough for severe slurry, and entirely customizable based on your specific application. Most importantly, you can choose to add UT sensors for in-situ thickness measurements, allowing you to plan your change outs.
Read: To learn more about our new wear sensor technology, developed in partnership with the National Research Council, click here.
We use a chrome white iron liner, an alloy particularly suited to the demands of the Oil Sands. It's produced to meet or exceed the requirements of ASTM A532 Class III Type A, as well as any customer written chrome white iron specifications. We combine the ASTM A532 liner with a steel shell to meet all of your piping requirements. It's worth noting that chrome white iron can significantly outlast CCO and rubber in most applications.
The chart below explains some of the key points of difference between FORCAST ARMOURED PIPE™ and other options.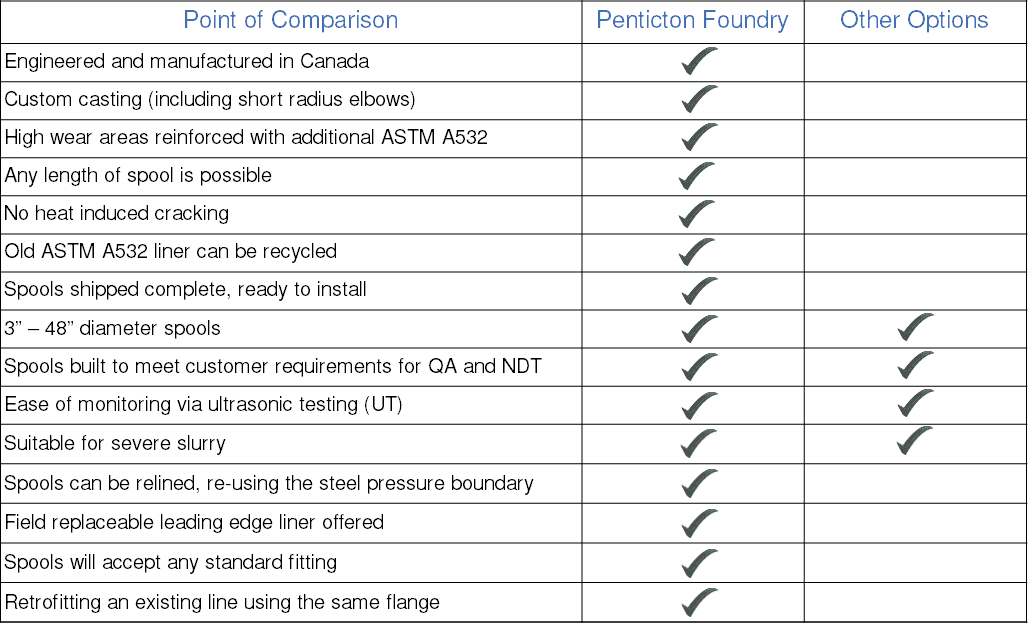 Penticton Foundry is your only source for fully customizable, bi-metal, UT testable, high chrome white iron, abrasion resistant piping products. Contact us today to find out how you can solve your wear challenges, extend your runtime and improve your bottom line.
Read: To learn more about chrome white iron, check out our chrome white iron webpage.