on

June 29, 2016
Challenge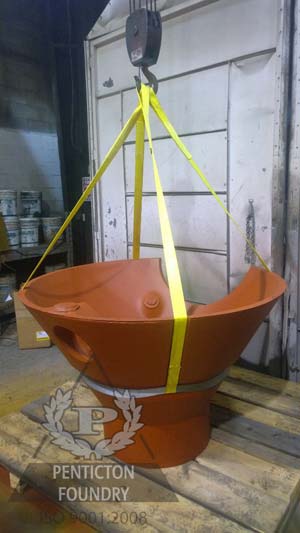 A company in the Alberta Oil Sands approached Penticton Foundry to address a wear issue in a primary separation cell (PSC) lower sump cone.  The cone is a critical component of the primary extraction process.  Unplanned outages would result in a lengthy shutdown of the system as the vessel would have to be emptied in order to facilitate repairs.  The original design used chromium carbide overlay (CCO) to protect the bottom of the cone.  It would typically last 1000 hours (6 weeks) and would then require extensive weld repair to the CCO wear surfaces.   This process would have to be repeated every 6 weeks.
Solution
Penticton Foundry designed and supplied a high chrome white iron casting to "drop into place" without requiring any modifications to the existing vessel.  The casting was designed to protect the bottom portion of the vessel, as well as resolve an issue of premature wear on the lower edge of the inlet hole.
Results
The high chrome white iron casting has been in service for over 7000 hours (42 weeks).
After a thorough UT inspection, it has been determined that it will remain in place for another 6000 hours (36 weeks).
The next inspection will coincide with the next major planned outage.
When taken out, it is forecasted that the casting will still have 6550 hours (39 weeks) of wear life remaining.
As 39 weeks will not last until the next major planned outage, the casting will be taken out of service after 13,000 hours (78 weeks) of uninterrupted run time.
Key Takeaways
The chrome white iron liner has the potential to run over 19,650 hours (117 weeks or well over two years). 
In this application the chrome white iron design was able to last 20 times longer than the original CCO design.
Updates
Sometimes, even we're surprised at how well something performs. In the original success story, the chrome white iron casting had been in service for 42 weeks (it was put into service in September 2014). It was projected that the casting would remain in place for another 36 weeks, or 6000 hours, which was around 20 times longer than the original CCO design.
Here's where we are at:
The casting was put into service in September 2014 and has been in service for 6 years
It is now scheduled to be replaced in September 2021 – 7 years after it was originally put into service
The re-line will coincide with the next major planned outage

The chrome white iron casting lasted 58 times longer than the original CCO design