An Oil Sands Success Story with ASTM A532
High chrome white iron, or ASTM A532 has a number of myths attached to it, the least of which is that it is brittle. The superior wear resistance of chrome white iron to steel, or AR 400 plate, however, makes it a natural choice for applications requiring abrasion resistance. 
A recent success story in the Oil Sands illustrates this.
The Challenge
Penticton Foundry was approached by a customer in the Oil Sands to participate in the initial design of a large blending vessel, which is typically filled with a highly abrasive slurry comprised of 5" minus rock, sand, bitumen and water. The vessel can only be emptied once a year to allow for an inspection of the interior. The inspection process is a very tedious and expensive operation.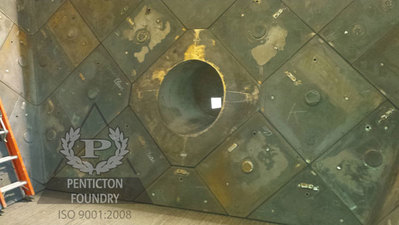 Goal: Line the lower portion of the vessel to ensure that it would not wear through for at least 1 year, with the ultimate aim being 2 or more years between repairs.
Special Design Considerations: The 4 outlets at the bottom of the vessel were a high wear zone.
Solution
Penticton Foundry created 2" thick chrome white iron liners for the lower portion of the vessel. In the case of the four outlets, (a high wear zone), Penticton Foundry provided 4 outlet liners that were 4 inches thick.  All of the liners were designed to be easily replaced (they were bolted through the vessel).

Results
After operating for 1 calendar year the vessel was emptied for inspection.
The results reflected the superior abrasion resistance of ASTM A532. The 2 inch wall liners had little to no wear. The 4 outlet liners had small amounts of wear in the high wear zone.
At the current wear rate it is anticipated that liner replacement will not be until 5 years' time.
The customer was highly satisfied with the result.
Read: To learn more about design considerations when working with high chrome white iron, read "The Top 5 Design Mistakes of Chrome White Iron Castings."