on

August 25, 2020

It's not enough to simply say that you innovate as an organization. You need to invest time and resources.

With a slogan of "fueled by innovation," Penticton Foundry has stepped up to the plate to help the Oil Sands and other industries solve wear problems. Our partnership with the National Research Council Canada is our latest effort at helping our customers reduce downtime and realize cost savings.

The National Research Council

The National Research Council, funded by the Government of Canada, focuses on science and technology research and development designed to help industry address challenges. Most recently, the National Research Council developed an ultrasonic transducer sensor that circumvented some of the existing limitations of current wear monitoring technology.

The Sensor

The previous technology had 2 key limitations: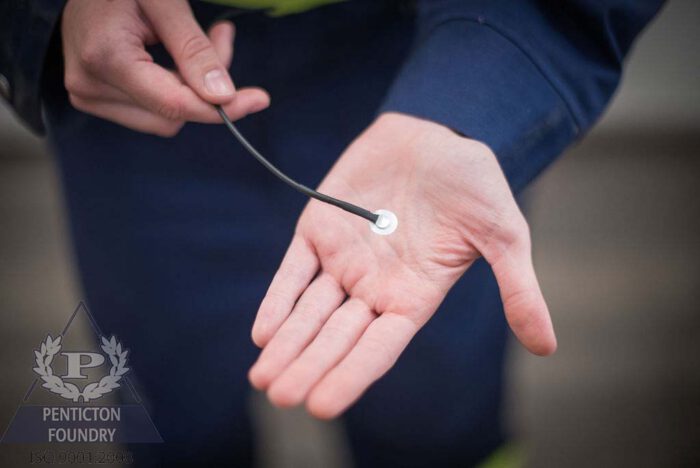 The sensor was embedded in a collar. Unfortunately, this meant that the wear monitoring technology could not be installed at the pipe's leading edge – a critical wear area.
Companies were not able to monitor and collect the data themselves. Instead, data was available at an additional cost.
The sensor developed by the National Research Council, on the other hand, does not have either of these 2 limitations. The sensor does not have to be embedded in a collar, meaning that it can be installed at the pipe's leading edge, or any other location on the pipe spool deemed to be a critical wear area. It also allows companies to monitor, collect and interpret the data themselves, resulting in significant cost savings.
Where Do We Come In?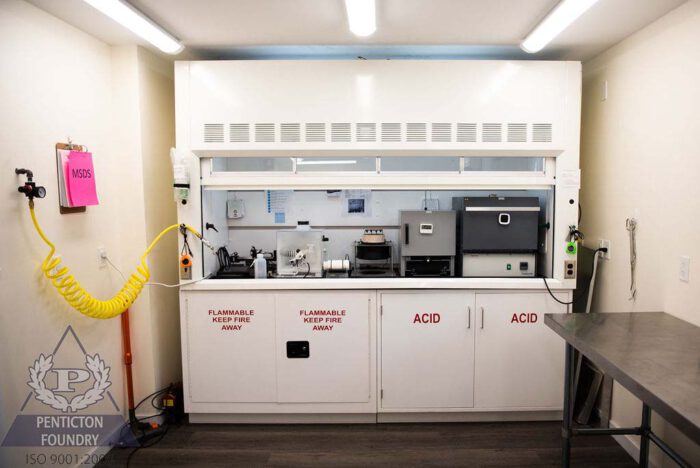 The National Research Council (NRC) approached Penticton Foundry to partner with them to deliver the improved wear sensor technology to industry. In 2019 Penticton Foundry signed an agreement with the NRC to use their patent to make the sensors. Staff were trained on how to make them, and the Foundry started building and renovating a room in Plant 3 to accommodate their manufacture. Fast forward a year, and a $100,000 later, Penticton Foundry now has a lab that can make 130 sensors a week.
While currently limited to our FORCAST Armored Pipe™, we are potentially going to be expanding our offerings – the details of which will be outlined in a later blog.
FORCAST Armored Pipe™
FORCAST Armored Pipe™ is fully customizable, comprised of an abrasion resistant chrome white iron liner and a steel pressure boundary. It is completely engineered and made in Canada. Our new wear monitoring technology sensor can be added to this game changing, piping product.
Read: To learn more about FORCAST Armoured Pipe™, click here.
Key Takeaways
Sensors allow wall thickness measurement testing to be done without shutting down, saving significant downtime and money
The new sensor can be placed on the leading edge of the pipe, unlike previous wear monitoring technology
Data is available in real time, accessible to the client on-site
Contact Penticton Foundry today to help solve your wear challenges.