on

May 5, 2020

With its unique microstructure, high chrome white iron, ASTM A532, can outlast AR 400 plate, alloy steel, and chromium carbide overlay in most wear resistant applications.

But how does chrome white iron compare to rubber?

Challenge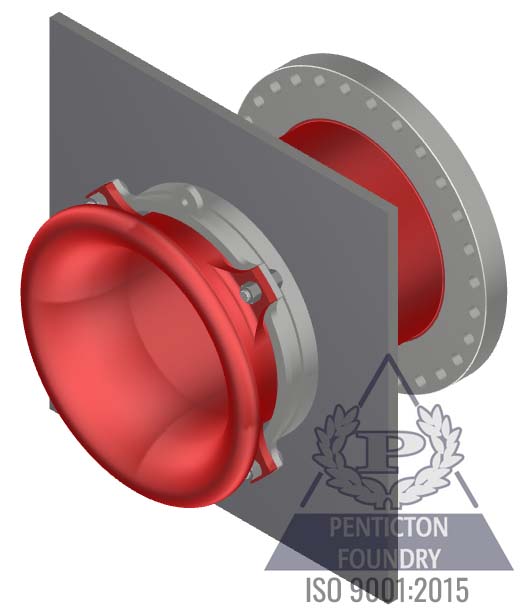 Penticton Foundry was approached by a copper mine in Princeton, British Columbia. They were concerned about the wear life of their rubber-lined, pump box discharge nozzle, which was experiencing severe wear due to a combination of big, angular ore and sharp, metal shards from grinding balls. The mine was replacing their discharge nozzle roughly every 4 months.
Solution
Penticton Foundry designed a solution that addressed the mine's 2 key concerns – increased wear life, and ensuring reliability. The result was a pump box discharge nozzle that incorporated a chrome white iron liner, with a steel pressure boundary jacket.
By using steel, Penticton Foundry ensured that the piping could hold the pipe pressure. As it was similar to what millwrights had seen in the past, there were no special precautions needed in handling the pipe.
Results
The parts were installed in 2018, and are still in use
As of April 2020, they have exceeded the wear life of the original rubber-lined nozzles by a factor of 7 times
The reason chrome white iron outperformed rubber in this application is because the media was still sharp and contained ball shards, both of which tore into the rubber
By not having to replace the rubber-lined discharge nozzle every 4 months, the mine realized significant cost savings and continues to do so
Expensive downtime and subsequent labor costs have also been reduced
Read: To read more Penticton Foundry success stories click here.
Read: For more information, and specific chrome white iron data sheets, check out our chrome white iron webpage.