on

February 24, 2016
High Chrome White Iron Outlasts AR400
A local mine just witnessed a dramatic visual testimony as to the superior wear performance of chrome white iron versus AR400. An OEM had used a blend of AR and Penticton Foundry Granite 25 chrome white iron for an ore feed transfer chute. The ore passing through the chute was up to 7 inches in size. The mine crushes approximately 40,000 tons of ore a day.
Unfortunately the mine had to shut down the feed chute due to premature wear of the AR400 plate. Penticton Foundry sent in a team to measure the areas lined with AR400 so they could be replaced with longer lasting chrome iron liner plates. Penticton Foundry then created and expedited the parts to ensure they were on site for the next shutdown (the mine had made temporary repairs in the interim).
The visuals below vividly illustrate the difference in wear.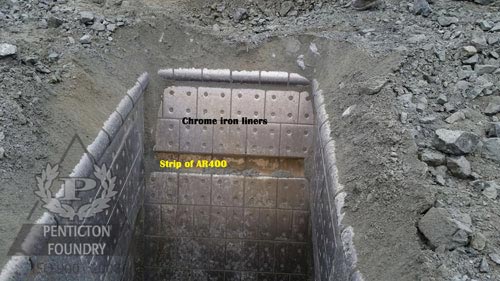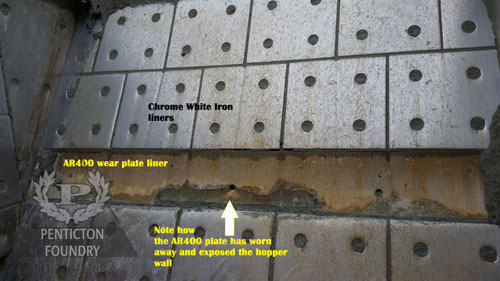 The feed chute had been running since November 2014.