Penticton Foundry Milestones 2018/2019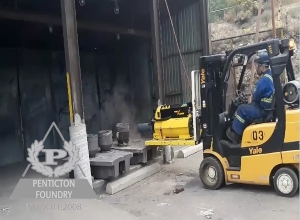 Located in British Columbia, Canada, Penticton Foundry has become known for its game changing innovations in the use of ASTM A532, chrome white iron. Achieving this level of success requires constant dedication to furthering our expertise. It means investing in our people, processes and equipment, and ensuring that our customers' expectations are exceeded every day.
We are proud of what we have achieved, and wanted to share some of our key milestones of the past 5 years.
2018/2019
a) Goal: Increase capacity and reduce lead times
Automated moulding line expanded to increase production levels
New cooling towers installed to improve melting efficiency
Purchase of power hammer to remove risers from castings and increase throughput
Hiring of key staff
2017/2018
a) Goal: Increase heat treatment capacity by 50%
Heat treat oven purchased and installed
b) Goal: Improve cleanliness in the plant
New bag houses purchased for future use
c) Goal: Improve visibility in the plant and reduce energy consumption
Plant-wide lighting upgrade
d) Goal: Gain a tighter control on sand temperatures in the summer
New sand cooler installation
2016/2017
a) Goal: To increase efficiency
New shipping office built
b) Goal: Pour larger castings
Construction of new pouring pit
2015/2016
a) Goal: Invest in equipment and facilities for current and future needs
Purchase of 2 new (3,000kg) melting furnaces complete with power pack to increase melt capacity by 50% once installed
Box shaker area expansion complete with new attrition mill
Purchase of new state-of-the-art spectrometer
Construction completed of new 10,000 square foot finishing building, with purchase of new swing grinding and hand grinding equipment, ergonomic tables, ventilation systems and lighting
b) Goal: Continue our commitment to reducing our environmental footprint
New bag house for pattern shop
2014/2015
a) Goal: Increase production capacity, while fostering better working conditions and product flow improvements
Begin construction of new 10,000 square foot finishing building, with structure improvements, crane installations, product-flow improvements
2013/2014
a) Increase pattern storage capacity
New 24,000 square foot pattern storage building