on

March 15, 2017

Challenge
New Gold Afton mine approached Penticton Foundry to replace an AR plate apron feed chute insert liner. Their goals of increasing wear life and decreasing change outs were based on two key concerns: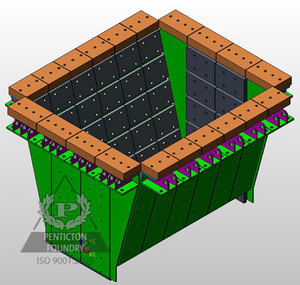 Cost
The danger associated with the change out process
High chrome white iron, with its superior wear resistance, made sense for this particular application.
Read: "Why Chrome White Iron Outperforms AR 400" for insight into chrome white iron's exceptional abrasion resistance.
Solution
Penticton Foundry developed a composite design of steel and chrome white iron. Drawings and a full solid model layout of the feed chute were created. This approach reduced the chance of fit up problems arising during installation – saving time and money in the process.
Download our case study that explains how Penticton Foundry's design assistance also helped a hydraulic fracturing company.
Results
As a result of the successful installation and wear performance of the apron feed chute insert liner, the mine will be lining two additional feed chutes with Penticton Foundry's solution.
New Gold Afton's Maintenance Manager also provided Penticton Foundry with a testimonial regarding the apron feed chute insert liner's performance, "We inspected the apron feeder liners you supplied early in 2016. They are in near new condition after 10 months of service. I am very pleased with their performance thus far."
For more information on chrome white iron check out our chrome white iron webpage.