on

January 22, 2020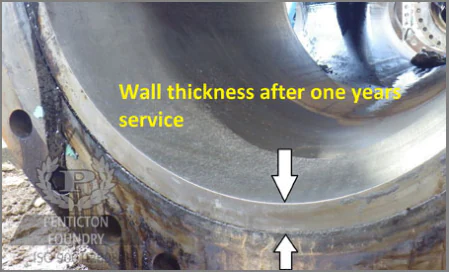 Industries such as mining, oil and gas and the Oil Sands deal with wear challenges
associated with transporting abrasive media. Chrome white iron, ASTM A532, with its
superior abrasion resistance, is one solution.
In fact, chrome white iron can outlast steel, AR plate, and CCO
Read: This case study explains how Penticton Foundry saved a company millions by replacing their CCO spool with chrome white iron.
The ASTM A532 standard
There are four grades of high chrome white iron represented in the ASTM A532 standard. These are: Class I Type A, Class II Type B, Class II Type D and Class III Type A. Each confers specific benefits unique to its composition.
For example, Class II Type B (15% Cr) will often have the same hardness as other grades, but cost less because of the lower percentage of chrome in the casting. Be careful, however, the II-B alloy can also have additional molybdenum, which can actually increase the price. It is best, therefore,
to discuss your application and requirements with your foundry.
Comparing 25% Cr to 15%
In high chrome white iron, a considerable amount of Cr gets tied up in the carbide phase. It is these carbides that give ASTM A532 its incredible resistance to gouging abrasion.
Two of the most commonly poured high chrome white iron alloys are Class II Type B (15% Cr) and Class III Type A (25% Cr). The higher the amount of chromium dissolved in the matrix of the metal, the greater the corrosion resistance.
Consequently, a Class III Type A (25% Cr) would be the better choice for corrosive environments such as the hydrotransport of slurry in the mining industry, or in the Oil Sands. Because the Class III Type A specification is broad, it allows for a wide range in chemistry and different heat treatments, meaning a larger number of potential applications are possible. A foundry with metallurgical expertise should be able to design an alloy to solve your specific problem.
Applications for Chrome White Iron 15%
Chute Liners
Gyratory crusher liners
Ball mill liners
Applications for Chrome White Iron 25%
Pipe spools, wyes, laterals, reducers, etc. for hydrotransport of slurry and tailings
Pump parts – Casings, impellers, suction or bearing liners
Cyclone parts
Refiner plates
Read: To learn more about ASTM A532, check out our chrome white iron webpage.