on

October 20, 2016
ASTM A532 and Mining Crusher Wear Parts
There are a number of reasons why high chrome white iron offers superior abrasion resistance. It outperforms AR 400, chromium carbide overlay and steel in a variety of wear applications. Read about how Penticton Foundry solved a Canadian mine's wear challenge.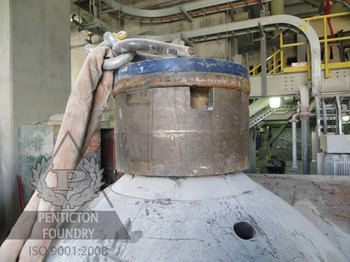 Challenge
The largest copper mine in Canada approached Penticton Foundry to solve a wear problem with a secondary crusher nut sleeve. The original part was an OEM alloy steel which needed to be changed out 8.67 times per year. With 2 crushers in operation this had become quite costly for the mine.
Solution
Penticton Foundry designed a chrome white iron nut sleeve to replace the OEM alloy steel part.
Results
The copper mine's original goal was to extend wear life by 3x.
Penticton Foundry's chrome white iron solution extended wear life by 6x.
Change out intervals went from 8.67 times per year with the OEM alloy steel part to 1.44 times per year.
In addition, the actual cost of the chrome white iron nut sleeve was less than the original OEM alloy steel part.
This means that the mine recognized significant cost savings overall – fewer change outs and a less expensive part
To learn more about chrome white iron, check out our webpage or contact us today.