on

May 25, 2022

The heart of any extraction plant is the primary gravity separation vessel, (SepCell for short), where 90% of the bitumen is recovered. The lower sump of the SepCell has a very complex shape, and is constructed from rolled formed steel. It is also equipped with up to 5 outlets. This leaves the lower sump particularly subject to extreme erosion.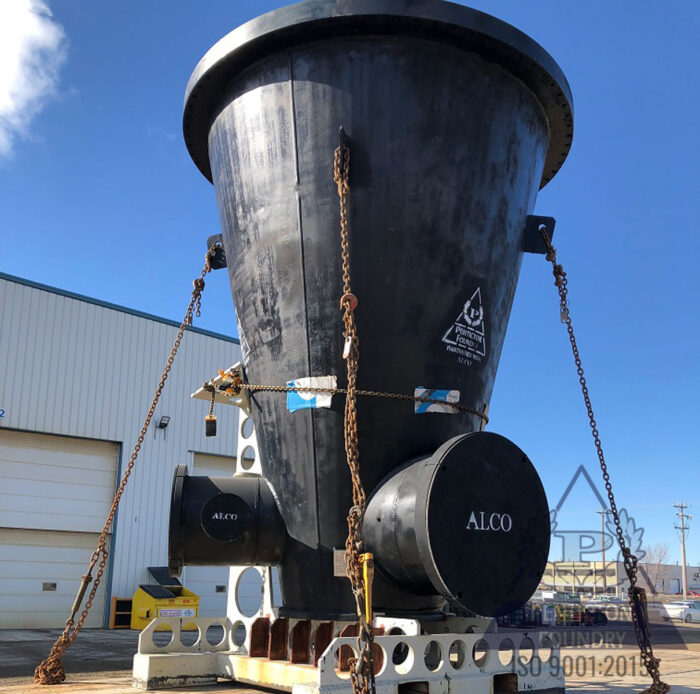 Challenge
Six years ago Penticton Foundry was approached by an Oil Sands customer to help solve a specific erosion issue. The lower sump of the primary separation vessel required extensive chromium carbide overlay (CCO) repair every year, extending the annual shutdown time. We were challenged to extend the life of the lower sump to a minimum of 2 years before it required any repair.
Solution
Penticton Foundry designed a chrome white iron liner package to protect the lower portion of the lower sump and the numerous outlets. Additional chrome white iron was added to high wear zones around the outlets.
The Oil Sands customer then shipped an existing chromium carbide overlay lower sump assembly to our facility in Nisku, AB, where the chrome white iron liner package was installed (2016).
The chrome white iron liner lower sump assembly was then returned to the customer ready to be bolted into place.
Results
The high chrome white iron liner package has been in service for 6 years
After 6 years, the customer is now considering the possibility of installing a spare chrome white iron lined lower sump this year. (It may last another year, but it is unlikely it will last another 2 years, the next planned outage)
Should they decide to replace the current chrome white iron lined sump with the spare chrome white iron lined lower sump, the current lower sump will be refurbished with new chrome white iron liners
Key Takeaway
The chrome white iron lined lower sump eliminated any need for a shutdown, directly related to the lower sump itself for a period of 6 years
Read: To learn more about chrome white iron and the Oil Sands, read "Why It Makes Sense to Use Chrome White Iron in the Oil Sands."