on

August 7, 2019
When to Use Wye Laterals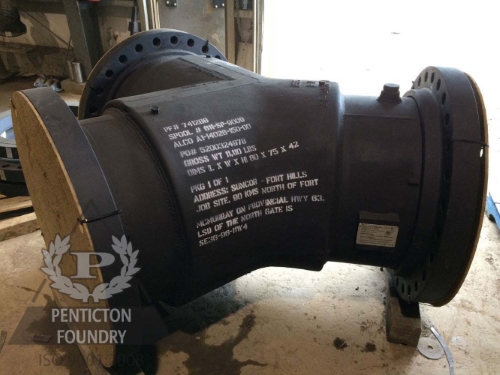 Wye laterals are used in a wide
range of industries including chemical processing, the oil sands, mining, and waste management to transport liquids and slurries. Due to their caustic and/or abrasive composition, these materials can create substantial wear on parts, necessitating frequent replacement. The costs of replacement in both materials and downtime can be high.
Solution
To address the dual concern of wear and subsequent downtime, wye laterals should be made of high chrome white iron inside (ASTM A532) and a steel pressure boundary outside.
While ASTM A532 offers substantial wear resistance, it is the steel shell that prevents the part from failing and the fluid from escaping. The steel, therefore, is critical for high pressure operations, and allows the AMSE B31.3 standard to be achieved on pipes.
Key Notes
a) Wear – The life span of the part is at least 4 times longer than a chromium carbide overlay (CCO). Chrome white iron also outperforms AR400 plate in other abrasion applications.
b) Assembly – Proper assembly design allows the casting to be replaced once the ASTM A532 liner has reached its maximum service life. This can result in significant cost savings because the pressure shell can be reused.
c) Environmental – This product can be recycled and relined, meaning less waste goes to the landfill.
d) Design – Castings, in general, allow the foundry to modify the design and greatly increase, or customize, the thickness in high wear areas.
e) Welding or Weak Spots – As castings can be made in one piece, there are no welding or weak spots.
Pro Tip: There are alternatives to welding chrome white iron. Read "Why You Can't Weld Chrome White Iron and What to Do About It" for guidance.
The chart below offers some possible diameter, length and thickness values for wye laterals. Keep in mind, that all values are customizable depending on design and application.
| | |
| --- | --- |
| Diameter | 14 – 30 inch |
| Length | 12 – 142 inch |
| Minimum Thickness of Liner | 32 mm |
| Pipe Spec | ASME B31.3/31.1/31.4/31.11 |
| Liner Spec | ASTM A532 – Abrasion Resistant High Chrome White Iron |
| Connections | |
For more information on ASTM A532, check out our chrome white iron webpage.