on

March 31, 2021

Chrome white iron, ASTM A532, is known for its abrasion resistant properties. Indeed, the presence of carbides, as well as its combination of toughness and fatigue strength, make chrome white iron particularly effective for transporting abrasive medium.

Read: This case study outlines how chrome white iron was used to replace an AR plate apron feed liner, saving the mine millions in downtime.

Challenges in Mining

There are several challenges in the mining industry that chrome white iron addresses:
Angular, abrasive, dense media traveling across many different surfaces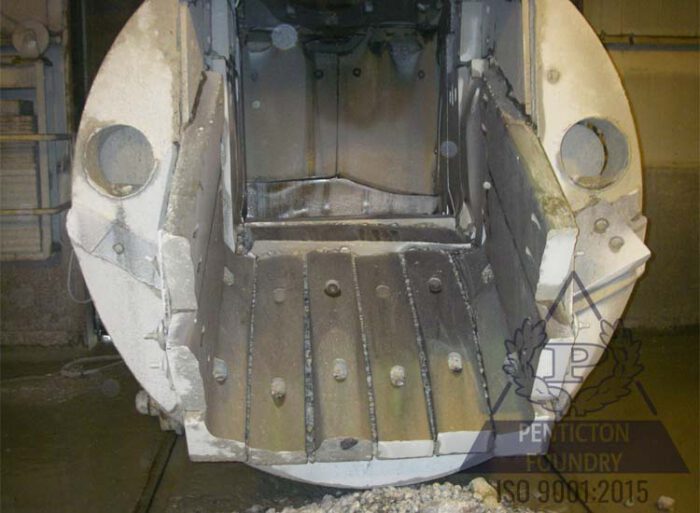 Media needs to make directional changes and/or travel through transitions
Chutes, grates, conveyors, feeders, etc. are exposed to impact, abrasion and corrosion
Downtime is expensive and must be scheduled accurately
Predictable wear life is important when scheduling shutdowns
Installation of wear parts can be challenging
How Chrome White Iron Addresses the Challenges of the Mining Industry
The chemistry and heat treatment of chrome white iron provide a matrix of martensite and carbides that offer excellent resistance to gouging abrasion. For the large, coarse ores that are processed in the mining industry, chrome white iron is a superior lining product
As ore travels through the pit and mill, it undergoes several direction changes. This transition can involve sliding and/or impact. Castings can be made to unique shapes, and the thickness can also be changed to optimize lifespan in these high wear areas
Chrome white iron for the mining industry is usually supplied with levels of Cr from 15% to 25%. All alloys in this range are excellent for impact and abrasion resistance. If corrosion is a concern, the 25% Cr alloys are recommended
High chrome white iron wear life far exceeds AR Plate
A casting made from chrome white iron will greatly outlast CCO because the casting can be made much thicker than the overlay
Once a wear-life timeline is established for an application, the consistency of high chrome white iron castings will enable millwrights and planners to plan for future shutdowns, without worrying about wearing through a vessel
Installation is simple with chrome white iron castings. Typically, an oval-head bolt (used frequently in the mining industry) can be used to secure castings to the chute/feeder/vessel that they will be protecting
Other fastening methods are possible. Feel free to contact us to discuss your needs
Resource: To learn more about chrome white iron, check out our chrome white iron webpage. This page also contains links to data sheets for each chrome white iron alloy.